Hurrah, my blog officially has one reader! I love comments! They make me motivated to write posts. So, without further ado, I present to you
The Sock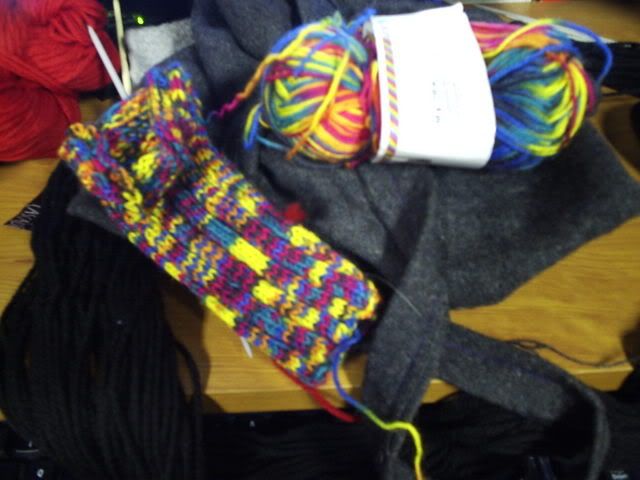 I picked up this fun sock yarn when I was home for my dearest Mama's birthday a couple months back. The sock in question was begun whilst visiting Vancouver for my younger brother's senior recital (which was fantastical, by the way). Since my internet access was limited at the time, I used the convenient pattern out of the front of a novel my Mama was reading, entitled, "A Good Yarn" by
Debbi Macomber
. That's right, it's a fiction novel about a knitting shop, and it has a knitting pattern in the front! It was all well and good until last week when I decided that I did not like this pattern after all. So, I shall frog the entire sock and start again. Perhaps I shall try Grumperina's
Jaywalker
pattern. It looks like good fun.
In other knitting news, I have finished my doubleknit Mario Boo scarf, and also some manga-themed items for a swap at craftster forums, which I shall not reveal until my swap partner receives them in the mail! You shall just have to wait in anticipation until then. You may, however, see the scarf. Ta-da!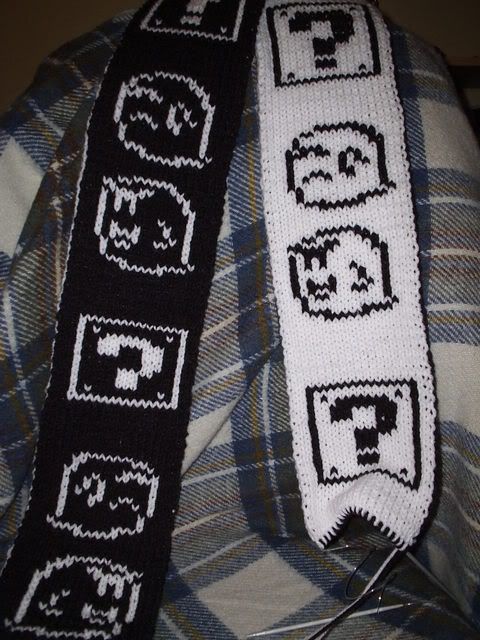 I am also nearly finished a hat, which I shall snap a picture of as soon as its done.
In non-knitting news, I shall finish with a story about the bus.
I take the bus quite a bit, since I don't own a vehicle, and don't wish to own a vehicle. The bus is a very convenient and cheap form of transportation, but has its ups and downs. Yesterday I had the coolest bus driver ever on my way to work. He not only greeted every person that got on the bus and asked them how they were, but did so in each person's native language! If he didn't know a greeting in a particular language, he would ask, and commit the answer to memory. How cool is that! His accent was terrible, but he was remarkably good at being able to find the correct greeting, and he brought a smile to nearly everyone who walked on the bus. The world needs more people like this.
That's all for now. Check back later for more wacky randomness from me!