Aren't you lucky blog readers today! You get a post filled with lots and lots of pictures! Details too, of this week's knitting adventures! So grab some popcorn, sit back, and here we go!
A few weeks back, I came across
this post on Craftster
where the person had created little sleeves for their headphones. "Ingenious!" I thought to myself. And then I bookmarked the link and promptly forgot about it. However, the idea stayed in the back of my mind, and last week I finished up a couple things, and needed some easy and portable knitting to take with me on the train. I figured that if one could cozy their headphones, they could do the same for the other miscellaneous cords. My power cord is always deviously pretending to be my usb cable, and my usb cable far too often disguises himself as my power cord. If I knit them little jackets, they'd never confuse me again! And so the multicolour power cord was born. It was knitted in a 5 stitch i-cord with - you guessed it - the ill-fated sock yarn of froggingness! Luckily I only had to frog this back a few times before I got the hang of knitting an I-cord around a bulky object.
Fast forward to last night. Now, another pattern that I'd had archived was
Grumperina's ipod cozy
. I was struck with inspiration to make it, since she made hers with Manos del Uruguay, and I happened to have some Manos in a tiny ball waiting for a special project. And after I knit that, my headphones looked so lonely I just had to start knitting them a sleeve too. Anyways, pictures first, details after!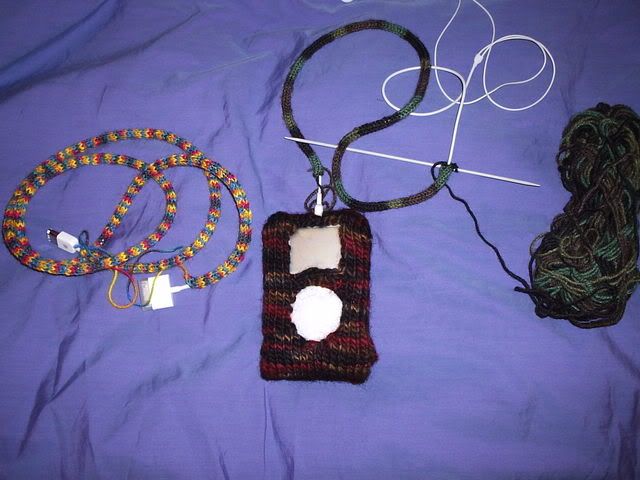 It's glowy!
It's Geass!
That's right, there's a Code Geass symbol on the back. Don't know what Code Geass is?
Check out the entry on anidb
. The Geass symbol was actually knit with acrylic yarn (I know, I know, don't burn me at the stake please! I'll never mix wool and acrylic yarns again! ....wait, no, I probably will..) and double stranded to make it more visible among the changing colours of my Manos. I knit it on 4mm needles as the pattern says, but I think my thick-and-thin yarn was more thick than thin, and it came out a bit big. If I do this pattern again, I'll likely use smaller needles.
All in all, it took me maybe an hour to knit (maybe a bit more, since I was watching anime at the time....not Code Geass, I was watching the end of Erementar Gerad). The knitting was a breeze, but the sewing.......the sewing was EVIL! I might not even have gotten this done, if not for my brilliant housemate Robin. I wandered upstairs looking for a plastic sheet to use to go over my screen, but alas, there was no plastic to be found. Everything was too pliable, too opaque, or too rigid to be useful for this project. I almost despaired. And then Robin, looking down at a binder, speculated that the plastic binder cover might work. BRILLIANT! GENIOUS! Binder cover is actually perfect, being firm enough to stand up to abuse and hold the sewing stitches, but flexible and clear too, enough to be able to poke through with my needle to sew it on.
The sewing took a long time. I decided to put plastic over the clickwheel aperture too, since my knitted circle was not quite a circle, and I noted that sewing does wonders for getting things to stay in the appropriate place. The pattern calls for sewing up the sides in mattress stitch which I've never attempted before. I tried my best, but it's only really an attempt at mattress stitch and not the clean seaming I would have hoped for. I shall have to practice that. I haven't put the buttons on the back yet, but overall I'm quite pleased with this project. Wheeeee!
And now, my swap partner received her goodies, and took pictures, so here's what I made, courtesy of Zero Cool from the swap gallery! First, the bunny toys, which were mostly Ian's work, since he did the drawing and cutting with the jigsaw and drilling. (Note, I actually did take the first picture, I had forgotten about it until now! It's the fruits and veggies pre-cutting. As an aside, we tried drawing a head of lettuce, that actually looked more like a pork chop, and as a result, our resident feline, Little Boo, has acquired the nickname of Pork Chop.)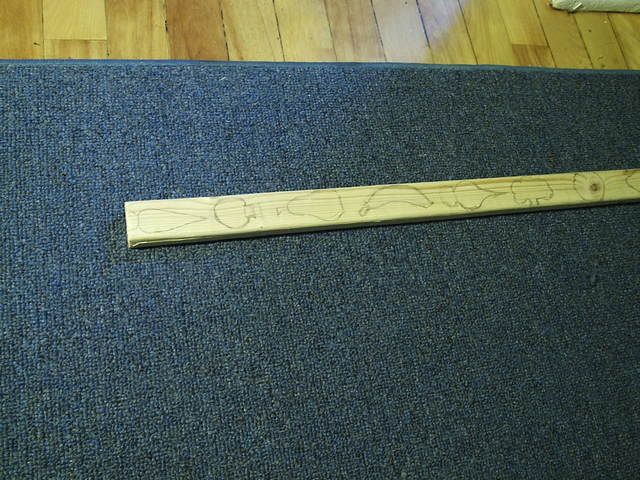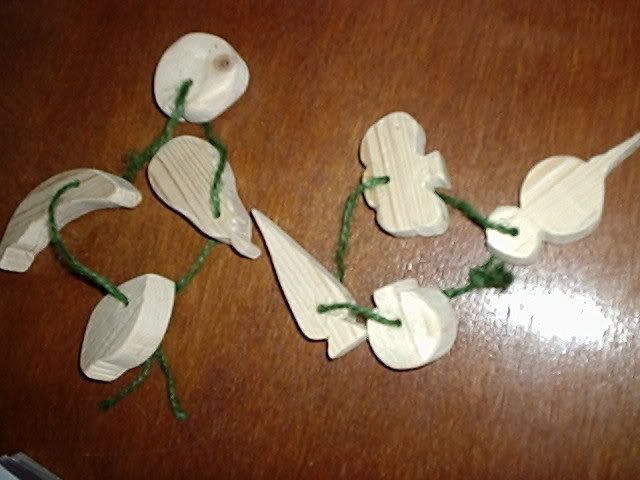 And now the Fetchings with the owl cable on them. I used the owl cable pattern for the
Owl Cable Hat
. It's a bit hard to see the owl on the gloves, since it blends a bit into the upper and lower cabling, but hopefully you can pick it out.
And last but not least, the second incarnation of my socks is progressing. I'm using an ankle-high sports type sock pattern from the book
The Urban Knitter
by Lily Chin that my friend Lindsay is lending me. These socks use a short row heel, and it was my first time doing short rows. It was pretty fun! I think the remainder of the sock will knit up pretty quickly (as soon as I stop stealing my sock needles to knit ipod accessory cozies....).