Well, July has zipped by. I've spent most of the month in Ottawa, and I'm sad to say that I didn't quite get as much knitting done as I would have liked. Nevertheless, I shall tell you all about it in one whirlwind post! Before we start though, for those of you who don't visit
Craftster
I bet you're dying to find out what I received from my swap partner in the Anime/Manga swap. The first item was this lovely pair of wings, which she based loosely off of Haibane Renmei. They're so elegant, and I'm scheming up a complete costume to wear with them for Halloween.
The second and I have to say my favourite item of this swap, was a set of two Bleach patches, which she hand-embroidered. I don't know how she managed to find the patience to make both those patches, but I absolutely adore them, and already had to fight off my brother who wanted to steal them! I think I might knit a pair of black gloves like Rukia's to put them on!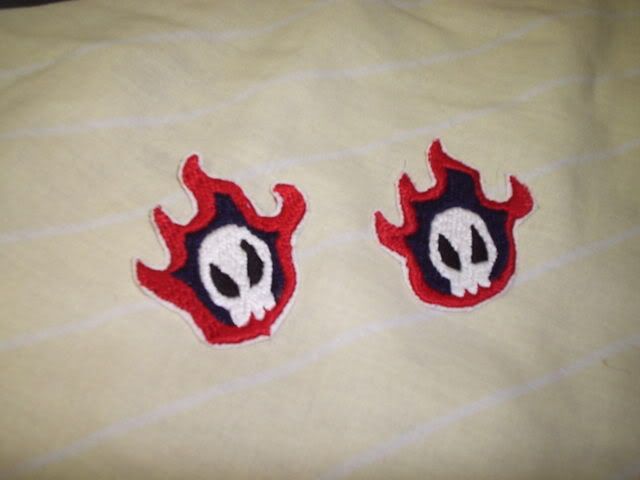 I was asked by another craftster member to do a personal swap, and so I knit these long fingerless gloves with skulls on them for her. Alas, she seems to be MIA, so I don't know if I'll ever get any items in return, but I hope at least that the gloves arrived safely and that she liked them. I tried to knit them as close to her specifications as I could.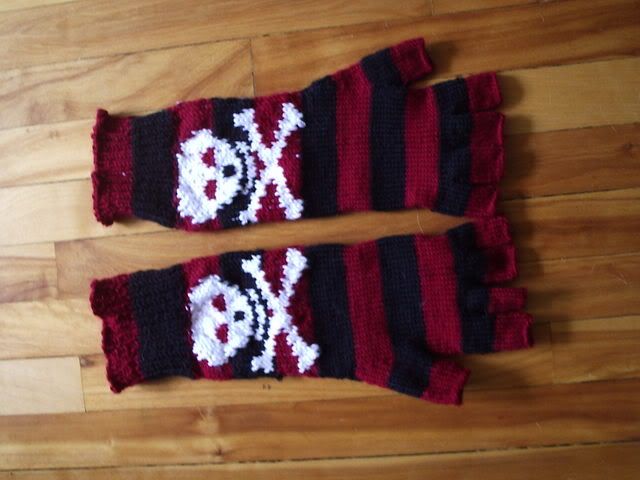 And in more swap news, I signed up for a wishlist swap, and put up a wishlist for my sister to surprise her! Two wonderful craftsters chose to craft some beautiful items for her. And as for me, I made a pair of
Fetchings
for the swap, but modified them to put an Owl Cable on the back of the hand. I used a dk weight wool blend yarn in dark green. The lighter weight of yarn makes the cables a little more flowing, in my opinion, and a little more subtle. Overall they ended up looking pretty elegant. I was very happy with how they turned out but alas forgot to take pictures before sending them away. Ah well. Maybe the craftster who is receiving them will post pictures in the swap gallery when she gets them.
And I have to confess that I still haven't sent Zinobi his hat *cringe* I still want to re-do it, I think. Poor Zinobi, he's been waiting forever. Ah well. I'll make him something super awesome sometime in the future to make up for it. And in other knitting request news, the Dark Saber scarf for Arcness is about halfway done. The chart is so gigantic that I have to really pay attention when I'm knitting it, and keep track of 5 or 6 balls of yarn at a time. It's my first time doing colour work on such a large scale, and it's tricky, but I think it'll come out nicely in the end. I'm knitting it on 10mm needles so I can felt it.
Till next time, blog readers!