"Are you sure?" my mom asked me. I tried to sound confident. "Yes," I replied. None of the certainty I meant to convey translated through to my voice. My mom asked again, "Can you really live without your computer for two weeks?"
Katie was laughing at me in the background. It wasn't helping. "Yes, I'll be fine," I reassured her.
Upon hanging up the phone, Katie just looked at me, and said, "There's no way you'll survive that long without your computer." I knew it was true. I didn't want to say it. In my head, I began concocting elaborate schemes. It was a simple enough problem. My computer was in Ottawa, as was I. I needed to go back to Hamilton. I wouldn't return to Ottawa for two weeks. My perfect plans to get a ride back was disrupted at the last minute, and my only option was the train. I had my desktop with me. Could I take my desktop on the train? No, that's crazy talk! But, once I started to back my belongings, I came up with a crazy plan.
Materials:
1 computer tower
1 fuzzy blanket
1 roll of duct tape
1 case of pop
And, here we have the result: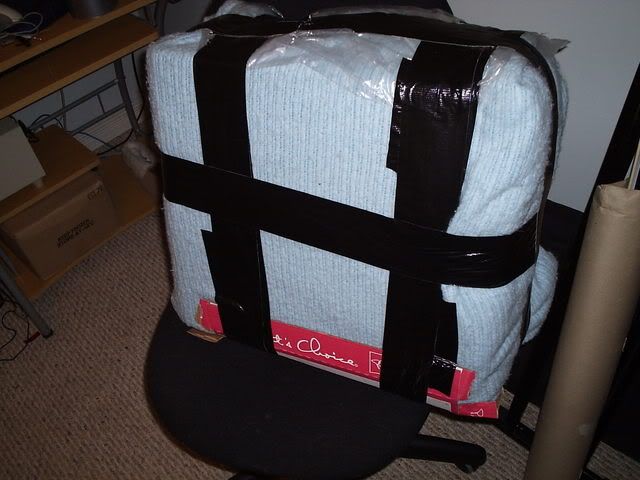 Although the whole experience was less terrible than I thought it was going to be, I have resolved to never take my desktop on the train again.
But enough of that. Let's get to the yarny goodness! After the aforementioned epic journey, I stopped off at my parents' house. My mom, who is likely the best mom in the world, had found some awesome yarn deals for me. So very exciting! Here they all are!
The first are these four GIANT spools of cotton, fingering weight, and I have no idea what I'm going to do with them, but I'm sure I'll think of something. I'm tempted to try the
Peacock Plumes Cardigan
from Elann. I'm not sure how my gauge would compare though. I've also never worked with cotton before, which contributes to my hesitation. These giant spools are motivation enough to get over that though.
Secondly, there are two bags of "Fashion Yarn" made of "100% unknown fibre"!!!! Woooo!!!! I can't say I know what I'm going to do with these either, but the fluffy one looks like it might make a fun stuffed animal for when I decide to try knitting one of those. I can't really see myself wearing something so.....er....fluffy. Next, we have some more thrift store recycled yarn! Wheee! And finally, the
pièce de résistance,
a bag of yarn ends, many of them sock yarn! Check out those beautiful colours! That whole entire bag was a mere 25 cents!!!! I'm going to make the best socks ever!!!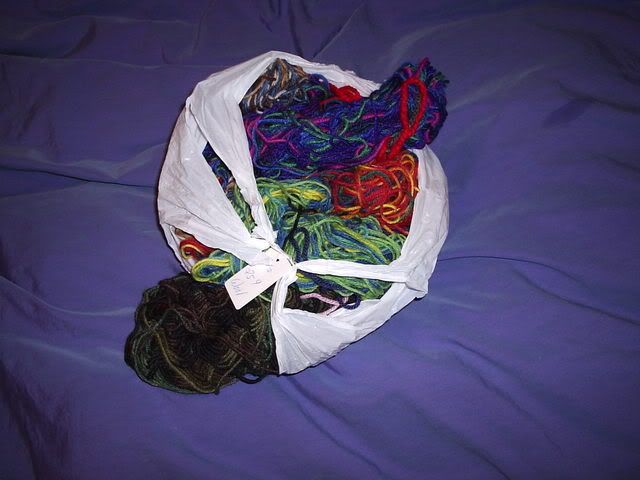 Lastly, I have a pic of the Kon hat I made, but it turned out too big. Additionally, I had to put on a white outline because the brown was too indistinguishable from the black. I've decided I can't give such a substandard piece of knitting away. I might send this hat to my sister because she won't mind the hugeness of it, and knit the entire hat again, this time in the correct size with a lighter shade of brown.