Oh hi! I guess it's about time to give an update here. You may wonder where the summer portion of my blog has gone. Well, it really has to do with the fact that I'm a sporadic blog-writer at best, and my internet connectivity this summer was rather limited. As well, I played Guild Wars in most of the time that I did have on the internet. I know, I neglected showing all of you my lovely knitting achievements because of a video game, it is sad. However, now that I'm back in school, you may get a few more blog posts due to my addiction to multitasking. Why focus on one thing, when you could focus on 5? Currently I'm tabbing through between writing this post, writing a paper on theoretical linguistics, checking for new anime releases, browsing various forums (I knew joining all those extra groups on
Ravelry
would turn out to be trouble...), and talking with my roommates. Maybe this is why I find it impossible to pay attention in lecture these days unless I'm knitting simultaneously. Keeping my hands busy helps to focus that scattered and capricious attention span of mine.
If your curious about the summer, well, we'd need a whole nother post on that (the linguist reader will spot the instance of infixation just now). If you, my (two? three?) devoted readers clamour to hear the tales of mosquitos and muffins, breads and bears, canoes and rescues by cute yacht club boys I shall oblige. Otherwise, let's get to the FO's!
First, I finished Jenn's wedding shawl right after arriving home in Ontario. The wedding was absolutely beautiful, and it's pretty special to have the bride wear something you've knit. They had one of the best receptions I've ever attended, which was basically an informal barbecue style that encouraged everyone to move around and socialize instead of being locked to their 'table' of acquaintances. Here's a picture of the lovely bride herself, who now, months later, is going to be the mother of twins come March! So exciting! (And yes, those are bride and groom transformers on top of the cake....I love my geeky friends)
Having become addicted to lace in the course of that pattern, I spent a couple weeks making another small lace shawl for a dear friend of mine in the UK. I used the Spiders Web Fichu pattern from the book
Victorian Lace Today
, although I didn't read their instructions carefully for attaching the beads, which turned out to be trouble. They have a tendency to snag and tangle in the shawl. Not optimal, but it was my first time using beads in my knitting, and a good learning experience. The yarn is more of Lynne's hand-dyed merino from Knitopia in Langley. You can't tell in the picture, but it has subtle variegations between dark and light purple that give the shawl some extra visual interest.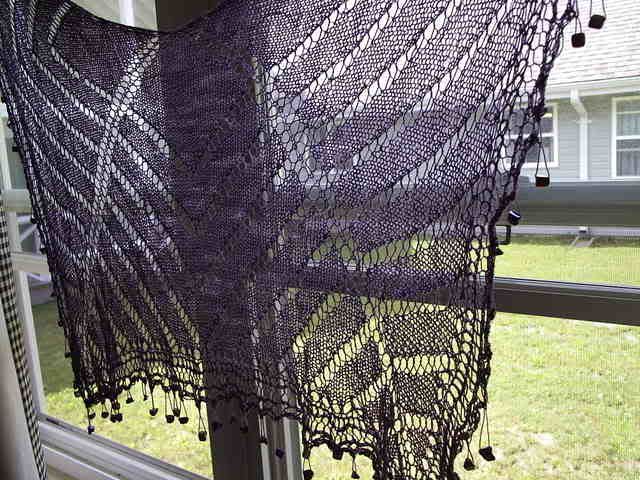 I also finally finished the Phoenix Scarf. Yes, it took a while. It was a pretty fun knit. Here's some of the finished pictures.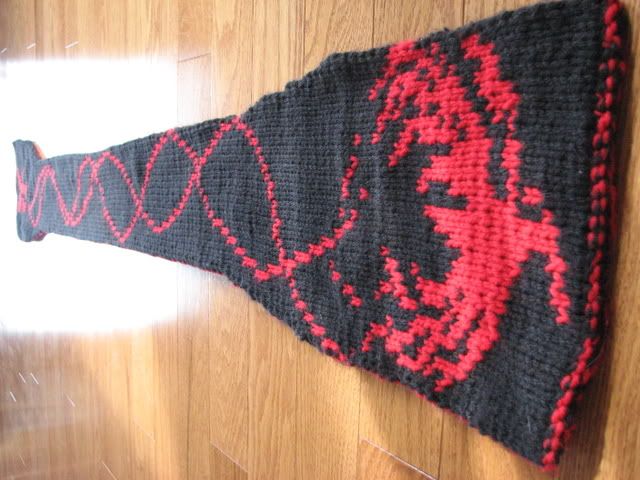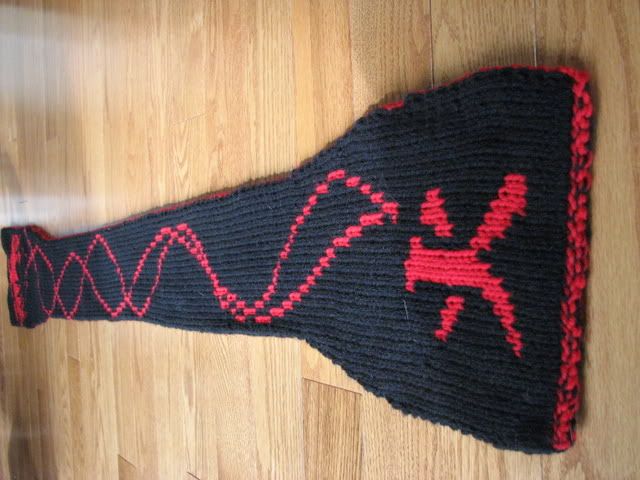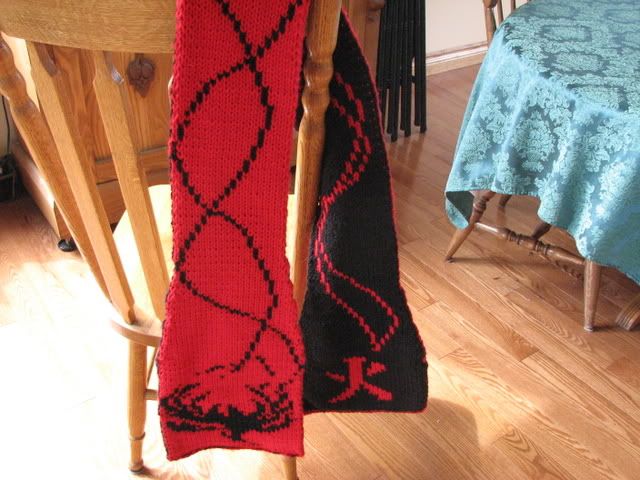 Another notable accomplishment in my pre-camp leisurely days on the ancestral farm were a couple of items for my favourite craftster swap of all time, the Make a Friend Swap. It was so much fun to make these! The first is a quilted table runner. *gasps of dismay* Not knitting? NOT KNITTING? Indeed. My wonderful Mama took me with her to her weekly quilting group, and let me raid her fabric stash. That week everyone in the group was making the same pattern, which is called Table Runner with a Twist. It was my first real quilting (besides a mini-quilt I made when I was really young that doesn't count) and I love how it turned out.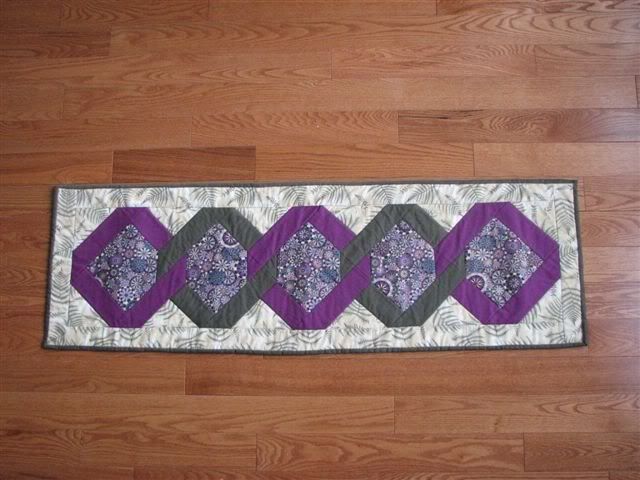 The other item I made for this swap was based upon the pattern Intricate Stag Bag. The pattern isn't actually available online anymore it seems, but for anyone who desperately wants to make this, I could send it to you. The pattern calls for DK yarn, and I ended up making this in worsted weight which made it a bit bigger than I expected. Ok, maybe a lot bigger than I expected. I knit it with yarn made from a sheep farm in my local area though, so hurrah for buying local and supporting farmers! The original pattern has an ugly chevron type border though, so I designed my border myself. It's supposed to be a leaf motif, to go along with the natural theme of the bag. In hindsight, I should have added a couple stitches on each side because some of my border got lost in the bag assembly.
Usually I do my colourwork in doubleknitting, so working with fair-isle technique again was a challenge for me. In particular, I always have trouble with my tension, and with securing the unused yarn over long floats. However, I gave this a bit of a tumble in my washing machine after I finished it, and then blocked it out in a square which seems to have helped. I didn't knit the back of the bag, but rather sewed it to a nice matching green plaid material, and used that to construct the bag (had to take advantage of my Mom's high-tech sewing machine while I was there). It's actually pretty huge. I really like this pattern though, and I think it came out great. I'd love to try this in doubleknit sometime, maybe for a placemat.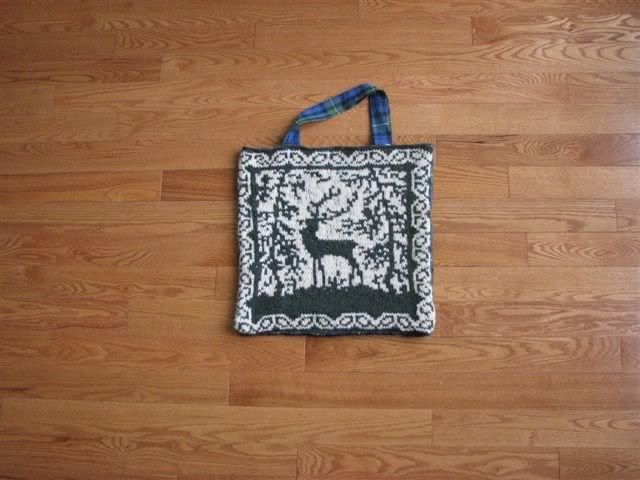 During the long summer days and stormy summer evenings I knit the katana scarf for Kraco. Camp was super isolated, but knitting helped keep my sanity. Or, most of it rather. Looking back, a lot of that time seems like an unreal ethereal experience that I only dreamed. Maybe because it's so incredibly different than living life at home or at school, my only two points of reference thus far in my life. At any rate, this scarf knit up surprisingly quickly, and it looks great so kudos to Kraco for the elegant design he provided.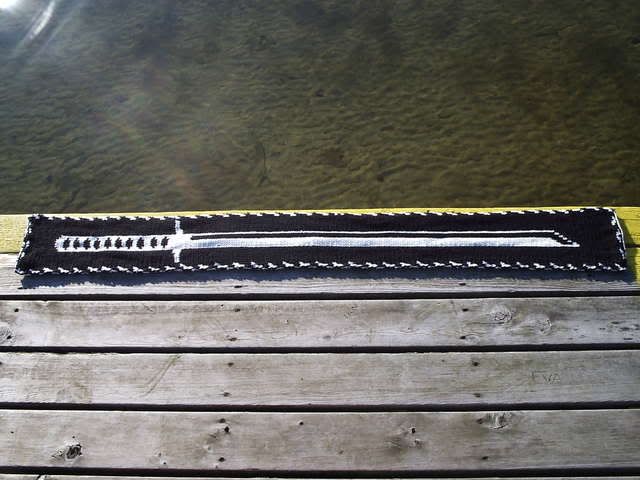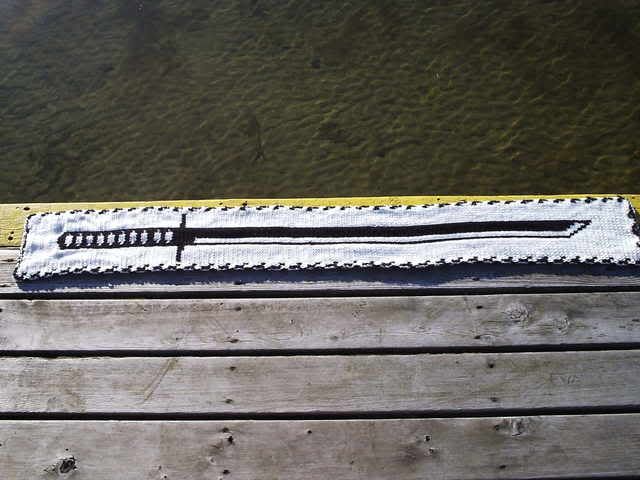 Whew! Still reading? That's probably enough of an update for now. I'll write again soon to fill you in on my knitting adventures since the beginning of school. It's that busy time of the semester again, so knitting time is becoming scarce, but not to worry, there are new projects in the making!