I went to go make this blog post today, and realized that the batteries in my camera are dead, as are my backup batteries. So, while they charge, here is a sneak preview of what sort of fun pictures will appear later today!
Stash-buster slippers! I made two pairs of these babies. Not the prettiest slippers ever, but true to their name they eat through a lot of yarn, and let you get rid of some of those half-balls of weird colours that you've had sitting around for ages. Made in a one-size-fits-all pattern.
The saga of the lacy cardigan continues. I've had the pieces finished for a few weeks now, and they're just sitting in a sad little pile on my desk, waiting to be transformed into a finished garment. Will I overcome my dislike of seaming to actually finish this project? Will the cardigan actually look nice at the end?
Remember those socks I started waaaaay back over the summer? Oh...maybe you don't remember them, because I don't think I mentioned them yet. Oh oh! I do have a picture of them back when I started them.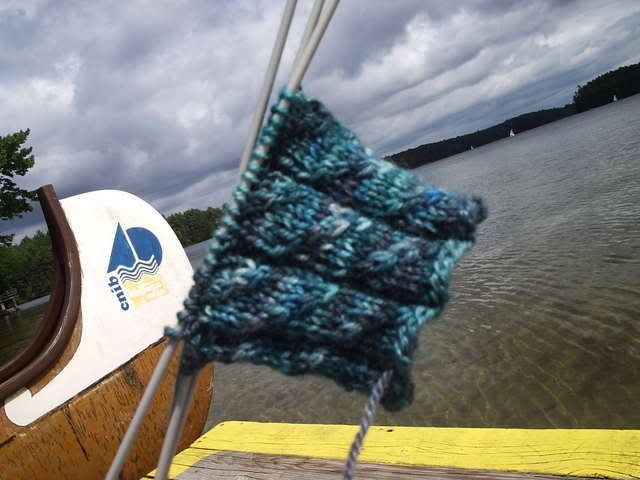 I loved that dock. What a nice relaxing summer. So yes, those socks have been finished for quite a while. Pictures will follow!
I designed a hat! It's Mario-licious. I'm still not happy with the earflaps, but that won't take too long to re-knit.
Check back soon!